Happy Friday everyone! I'm super excited this week is almost over, especially since most of next week I'll be on vacation! At the last minute we threw together a ski trip to Colorado with my husband, brothers and nephew. I do have to admit I'll miss the spring weather we've been having recently, but I'm sure as soon as my skis hit the slopes I won't mind the winter weather as much :)
So ending this week on a high note, let's get through some of my favorites from this week!
1. I laughed for
at least
5 minutes straight when I saw this. Reddit always knows how to keep me entertained at night while lounging on the couch. How has no one thought of doing this before?!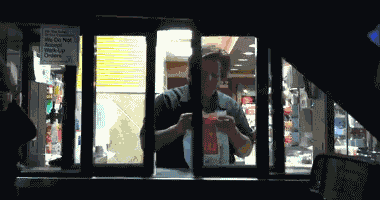 2. Lunches outside the office. This week I've been enjoying the beautiful weather by getting out of the office at lunch and soaking up some vitamin D. Getting in a needed break while also enjoying some time with friends is a win/win.
3. Yard projects. I think what makes me feel like actual adult is the fact that I like doing yard work/projects now. Last weekend Nate and I went to the HD to browse some patio stones (we'll be ripping out our decrepit deck next month and replacing it with a patio) as well as grab materials to make some raised garden beds. I'm a big veggie/fruit eater, so I'm pretty excited to have our own garden this year. We're also hosting a good friend's graduation party as well as my sister-in-law's baby shower in our backyard this spring, so that provides even more incentive to get to work on making our yard beautiful!
I've come to the realization that this is verbatim what we said to some friends last weekend. Nice lil' Saturday planned at Home Depot!
4.
Forever 21 Jewelry.
I'm not a huge fan of their clothing (being 5'9" provides some challenges when you're not a huge fan of mid-drift shirts or bottoms that barely cover your tush), but I
love
their jewelry. It's so inexpensive that you don't mind if an earring goes MIA, and they basically run the gamete of jewelry styles so you can always find what you're looking for. I picked up some bib necklaces, basic earrings and fun new rings and my total was still less than $30. Score!
5. All of the fun new flowers popping up in our yard. Last year, Nate and I scored some flower bulbs on sale. At first we planted them very strategically, but after awhile we just decided to abandon that route and threw the rest of them in a 5 gallon bucket. We mixed them up, planted them in random spots, and called it good. When it was nice last Sunday we were working in the yard and saw these beauties greeting us. I can hardly wait to see what other fun flowers come up!
Hello little baby crocuses!
<3